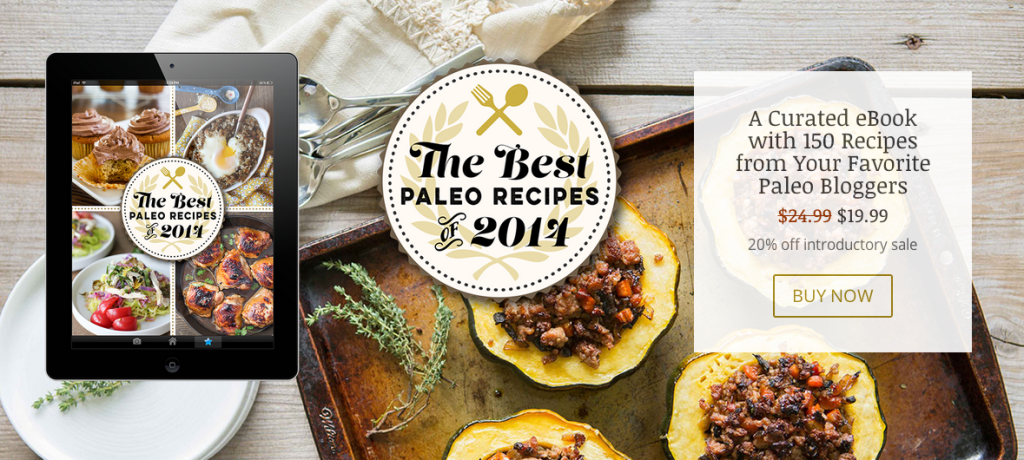 Confession time: I totally get sick of my own food sometimes. I've been cooking for a long time, and have learned from some amazing people, and have a pretty large repertoire of dishes, but still… Ruts happen.
The solution, for me, is to dine at restaurants with inspiring menus, peruse cookbooks of chefs I admire, and of course, cook food that someone else has created. I don't follow recipes on the daily, but when I feel uninspired to create something, following other people's recipes is often the solution.
Which is one of the reasons I'm so excited about this new ebook! Inspiring menus at restaurants often equal $$$($$$$) and I only have so much room on my bookshelf. 25 of the best in the paleo community all in one place is a dream come true!
Bill and Hayley of Primal Palate have curated the very best that 2014 had to offer, and put it all in this gorgeous, user friendly ebook. So you don't just get 150 excellent recipes; you get 150 excellent recipes from 25 different chefs, bloggers, and recipe developers. Why is that a big deal? Well, because in one handy publication, you're offered multiple styles; a variety of flavor combinations, a variety of techniques,  and and a variety of styles. In my professional opinion, this type of variety is the best way to learn how to be a better cook. And you're likely to find some new favorite bloggers along the way. Which means, you guessed it, MORE recipes.

I mean… this is a pretty talented bunch of faces!
We're all pretty adorable, I know, but I'm sure you're really here for the food, so here ya go:

This is just a handful of what's in The Best Paleo Recipes of 2014!

And of course since this is the work of Bill and Hayley, it's all in an easy to use, beautiful format.
All of the links on zenbelly.com are for information purposes, however some are affiliate links to books, products or services. Any sponsored posts are clearly labelled as being sponsored content. Some ads on this site are served by ad networks and the advertised products are not necessarily recommended by Zenbelly.