Grapefruits are one of those fruits that you're likely to find in your supermarket year round. But like most fruit, they're a thousand times better when they're in season and arguably, not worth buying when they're not. Grapefruits have been especially amazing this year, but I haven't done much with them besides squeeze them into a Paloma. Since their season is nearing an end and I'm due for a dessert recipe on here, a Grapefruit Tart just felt right.
Since I have mad love with this fruit (rumor has it I opted for it over ice cream as a kid, what a weirdo), I couldn't resist giving it the extra special treatment, and using it two ways for the filling. Fresh & juicy grapefruit segments top a sweet-tart Grapefruit Curd, which you might find yourself eating by the spoonful. Just make sure you save some for the tart. 😉
NEED SOME THANKSGIVING ASSISTANCE?
Well I want to help, so this really works out nicely 🙂
For the Crust:
1 cup cassava flour
1/3 cup extra virgin olive oil
1/4 cup water
1 tablespoon + 1 teaspoon maple syrup
Preheat the oven to 350F.
Combine the cassava flour, extra virgin olive oil, water and maple syrup in a medium bowl and mix to combine well.
Press into a 9-inch tart pan and poke all over with a fork. Bake for 18-20 minutes, or until golden brown. (tip: place the tart pan on a baking sheet so it's easier to move in and out of the oven)
For the filling:
1 teaspoon gelatin
1 tablespoon cool water
1 cup fresh grapefruit juice (get your zest before you juice!)
4 large eggs
1/4 cup honey
6 tablespoons butter or ghee
1 teaspoon grapefruit zest
2-3 grapefruits, cut into supremes (see photos below)
In a small bowl, sprinkle the gelatin over the water and set aside.
In a medium bowl over a pot of simmering water, whisk together the grapefruit juice, eggs, and honey. Continue whisking until the mixture is thickened, about 10 minutes. At this point, if your custard needs to be strained because of scrambled egg whites, do so now. If not, proceed to step 3.
Add in the gelatin, butter, and grapefruit zest. Whisk until the butter is melted and incorporated.
Pour the custard into the prepared tart crust and refrigerate until set, about 90 minutes.
Once the filling is firm, arrange the grapefruit supremes on top.
How to cut perfect little sections of citrus without any pith: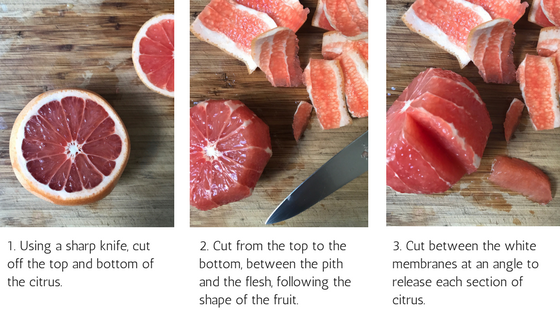 As you cut the grapefruit sections, lay them out on a few layer of paper towel to absorb extra liquid so they don't make the filling watery.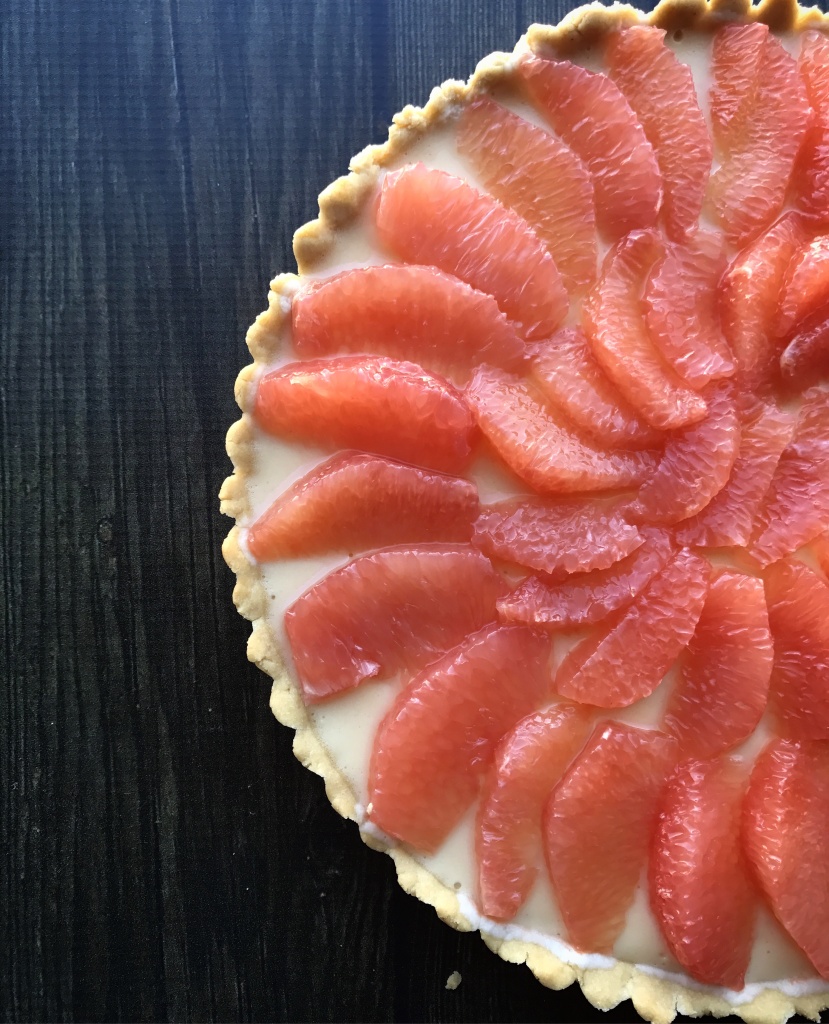 PIN THIS RECIPE!
All of the links on zenbelly.com are for information purposes, however some are affiliate links to books, products or services. Any sponsored posts are clearly labelled as being sponsored content. Some ads on this site are served by ad networks and the advertised products are not necessarily recommended by Zenbelly.