This Summertime Strawberry Salsa was inspired by the desire to avoid yet another trip to the grocery store. When I purchased the ingredients for my Barbacoa, I neglected to get salsa or ingredients to make it with. Scanning the fridge for a fifth time, (and STILL no salsa magically appeared!) I noticed a pint of almost-too-ripe strawberries. Bingo.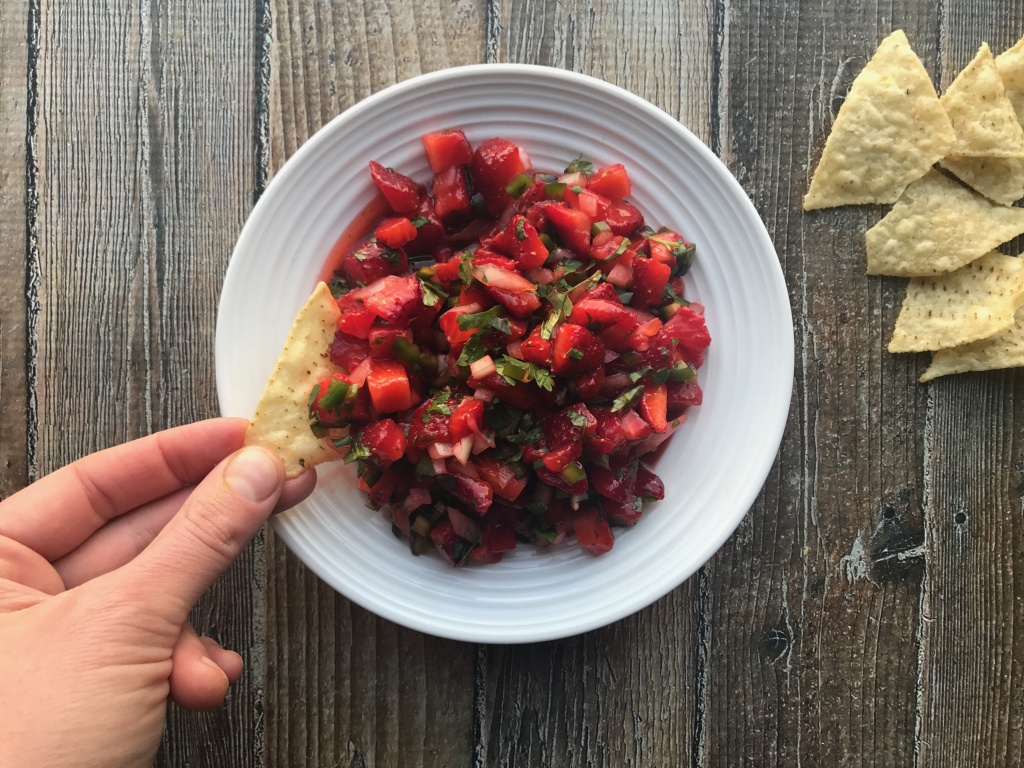 The jalapeño is a great spicy counterpoint to the sweet strawberries, but if you're looking for an AIP compliant salsa, leave them (and the optional cayenne) out and it will still be delicious.
Summertime Strawberry Salsa
prep time: 10 minutes
cook time: 0
yield: about 1.5 cups / 6 servings
12 ounces strawberries (about 10-16 strawberries, depending on size) rinsed, hulled, and minced
1/4 cup minced sweet onion
3 tablespoons lime juice (about 1 large lime)
1 large  jalapeño, seeded and minced (about 3 tablespoons minced)
1/4 cup minced cilantro
pinch salt
ground cayenne, optional, for spicier salsa
In a medium mixing bowl, combine all of the ingredients. Season to taste with cayenne if desired.
Serve immediately, or let it sit for an hour or two to allow the flavors to marry.
This salsa is wonderful on Barbacoa Tacos, with Grilled Chicken, Grilled Pork Chops (or anything grilled for that matter), and is best served the same day that it's made. (But it will still be tasty the next day)
PIN THIS RECIPE:
All of the links on zenbelly.com are for information purposes, however some are affiliate links to books, products or services. Any sponsored posts are clearly labelled as being sponsored content. Some ads on this site are served by ad networks and the advertised products are not necessarily recommended by Zenbelly.