Watermelon + Lime + Cayenne + Salt is one of the greatest flavor combinations of all time. I did not invent it, but I did add tequila to it recently, and I was very happy with the outcome. With or without the booze, this is the epitome of the refreshing summer beverage.
If you have extra watermelon, dice and freeze it to make watermelon ice cubes!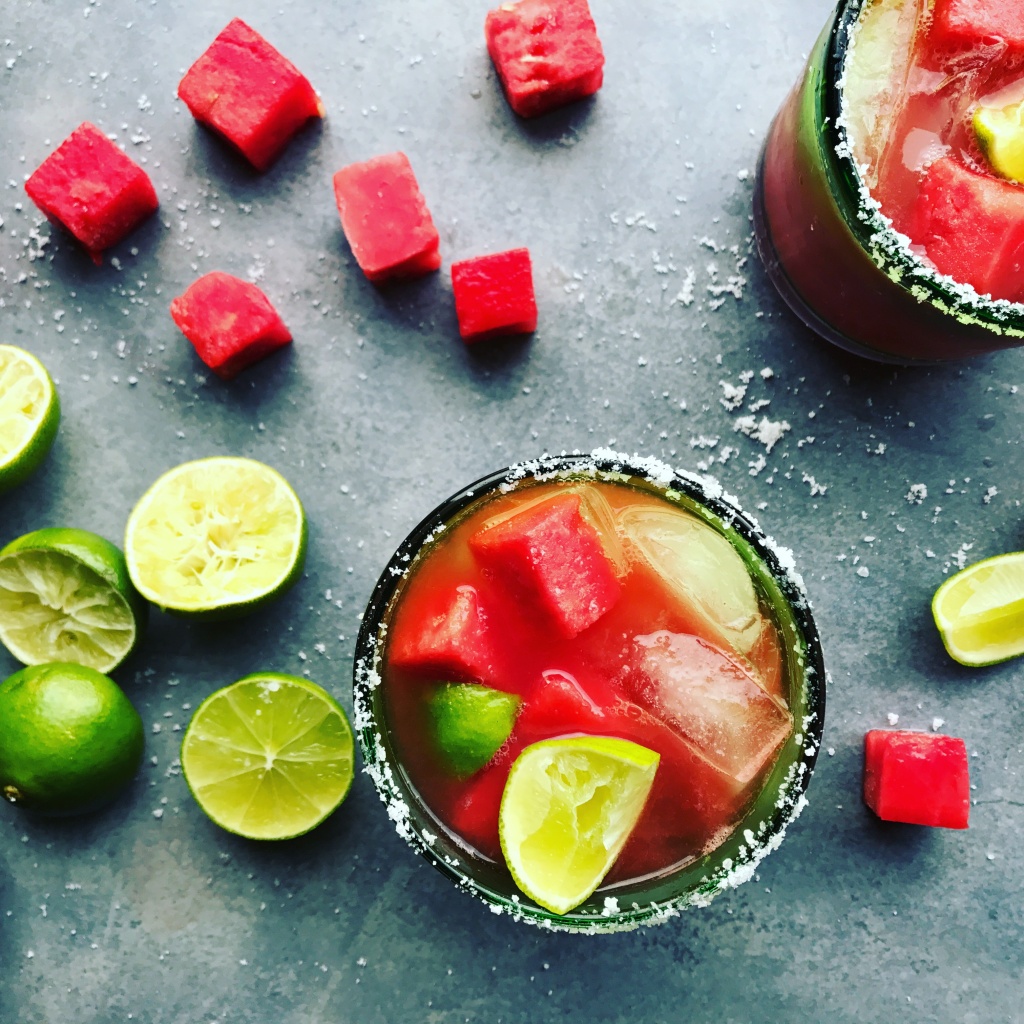 makes 6 cocktails / about 24 ounces agua fresca
For the Spicy Watermelon Agua Fresca:
4 cups cubed watermelon (a 6-pound watermelon was more than enough)
1/4 cup honey
1/4 cup very hot water
1/3 cup lime juice
1/8 teaspoon cayenne (Provides a nice mellow heat; adjust to your preference.)
1/8 teaspoon sea salt
Blend the watermelon until it's juice.
In a large bowl, dissolve the honey in the hot water. Whisk in the lime juice, cayenne, and salt
Strain the watermelon juice into the honey mixture through a fine-mesh strainer. Whisk to combine.
Refrigerate until ready to serve, up to 4 days. Serve over ice cubes and/or watermelon ice cubes.
For each Spicy Watermelon Margarita:
2 ounces blanco tequila
4 ounces watermelon aqua fresca
sea salt
lime wedge
Fill a cocktail shaker with a handful of ice, the tequila, and agua fresca. Shake it like you mean it for 30 seconds or so.
Run a lime wedge around the rim of a rocks glass. Invert the glass onto a plate of sea salt. Fill with ice and/or watermelon ice cubes.
Strain the contents of the cocktail shaker into the glass. Squeeze in the lime wedge.
Looking for more summery cleaner cocktails? Try my Bourbon Peach Smash, Strawberry Margarita, Beachy Bourbon, or Cucumber Elderflower Gin & Tonic!
PIN THIS RECIPE:
All of the links on zenbelly.com are for information purposes, however some are affiliate links to books, products or services. Any sponsored posts are clearly labelled as being sponsored content. Some ads on this site are served by ad networks and the advertised products are not necessarily recommended by Zenbelly.