When I set out to create Paleo Soups and Stews, I wanted it to be more than a soup (and stew) book. After all, for those of us living a Paleo or gluten-free type of life, it's probably not the soup we're missing, it's all the stuff that goes along with it; The noodles for slurping, the breads for dunking, the croutons for crunch…
So while I developed recipes for every soup I could think of, I took even more time creating the ones for all that good stuff that makes soup even better. In Paleo Soups and Stews, you'll find plenty of recipes for things that go In Soup– noodles and other fun additions, On Soup– garnishes to add a perfect pop of flavor and texture, and On The Side– breads, crackers and dippers.
These Sweet Potato Gnocchi are fun to make and great in so many soups. I created them with Harvest Chicken Soup in mind, but they're great in any broth, or tossed with brown butter and sage for a lovely pasta course.
NEED SOME THANKSGIVING ASSISTANCE?
Well I want to help, so this really works out nicely 🙂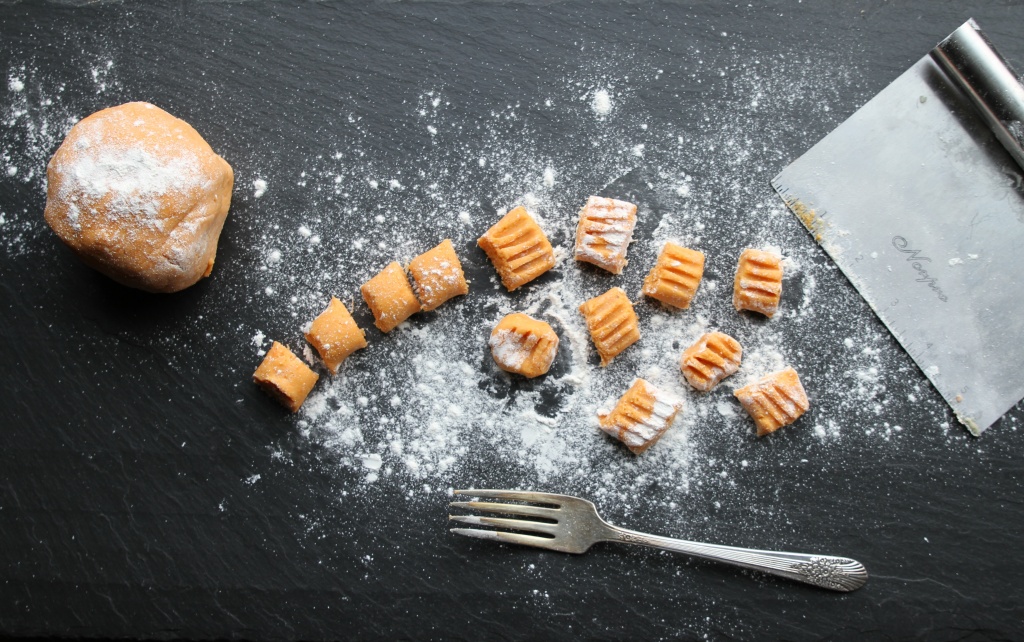 Sweet Potato Gnocchi from Paleo Soups and Stews
prep time: 20 minutes (not including time to soak cashews or cook sweet potato)
cook time: less than 5 minutes
yield: 4 to 6 servings
½ cup raw cashews, soaked in 1 cup water for at least 1 hour
1 ½ cups mashed or riced cooked sweet potato
1 large egg
½ cup cassava flour, plus more for dusting
Drain the cashews, place them in a food processor or blender with 1/4 cup of water, and blend until very smooth.
Transfer the blended cashews to a medium bowl and add the sweet potato and egg. Gently whisk with a fork.
Slowly mix in the cassava flour until a soft dough forms.
Liberally dust your work surface with additional cassava flour and turn the dough onto it. Knead in more cassava flour as necessary so that you have a workable dough. Divide the dough into 4 equal portions.
Roll each portion of dough into a long log about 1 inch thick. Cut the logs into 1/2-inch pieces. Press each piece gently with a fork.
To cook the gnocchi, bring a medium pot of salted water to a boil. Cook the gnocchi in batches for about 1 minute each. Remove with a slotted spoon and refrigerate until ready to use. Use within 4 days, or freeze for up to 6 months.
Variation: Nut-Free Gnocchi. Follow the method above, but omit the cashews, increase the amount of mashed or riced cooked sweet potato to 2 cups, and use ¾ to 1 cup cassava flour, starting with ¾ cup and adding up to ¼ cup more as needed to create a workable dough.
Chef's Tip: You can add these gnocchi to any of the broths from Paleo Soups and Stews; Roasted Vegetable Broth and Chicken Broth are a couple of my favorites.
PIN THIS RECIPE:
All of the links on zenbelly.com are for information purposes, however some are affiliate links to books, products or services. Any sponsored posts are clearly labelled as being sponsored content. Some ads on this site are served by ad networks and the advertised products are not necessarily recommended by Zenbelly.