I love lemon. And lime. And pretty much all things citrus. This time of year, when the days are short and the temperatures drop, the color and brightness that citrus brings is not something I take for granted. These Paleo and Nut-Free Lemon Bars are just the thing to wake up your taste buds and add a little brightness to your chilly winter day!
Ten years ago, I would have told you in no uncertain terms that I am absolutely not a baker. "I'm a chef, not a baker" is something I was known to say when someone asked me to make cookies or cakes or anything that required actual measuring. But when I decided to go mostly Paleo, that all changed out of the need for the perfect baked goods; suddenly, if I wanted them, I had to figure out how to make them. I came up with a grain-free flour blend that I love for things like Chocolate Cake and Coffee Cake and Muffins, but it was almond flour based, which doesn't help those in the community who are nut-free. When Otto's Naturals Cassava Flour came on the scene a few years back, the game changed. In many cases, I've had the best results when it's blended with another starch or flour, but for something like these lemon bars, it's the only flour necessary for both the crust and the filling. Same goes for this Pot Pie, which has an unbelievably flaky and delicate crust- the perfect topper for the hearty filling.
I think I'm getting the hang of this baking thing.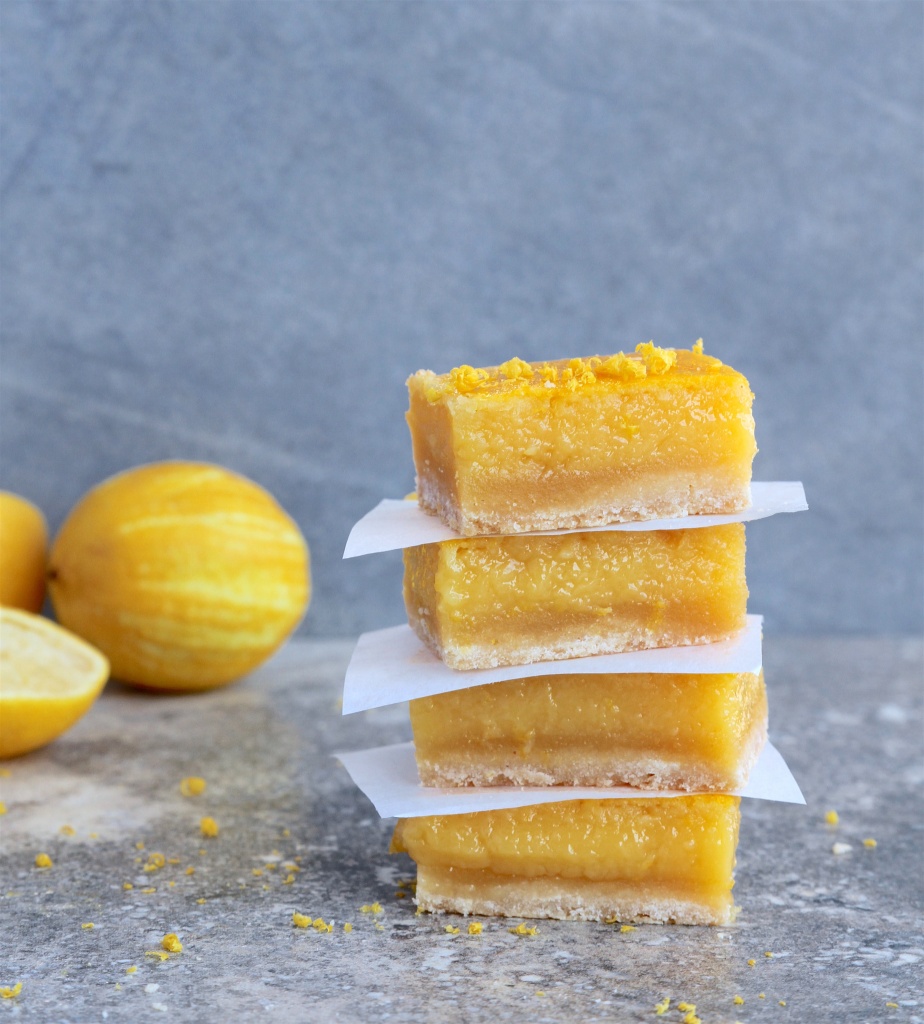 If you're dusting them with powdered sugar, do so right before serving.

Paleo & Nut-Free Lemon Bars
prep time:15 minutes
cook time: 35-40 minutes
yield: 12 lemon bars (about 1.5×2.5 inches each)
for the crust:
1 cup / 140 grams Otto's Naturals cassava flour (if not weighing, whisk your flour before scooping)
1 teaspoon lemon zest (make sure to zest before juicing!)
6 tablespoons butter (or cold ghee or palm shortening)
3 tablespoons honey
1 egg white (reserve the yolk for the filling)
¼ teaspoon sea salt
for the filling:
1 egg yolk
4 whole eggs
½ cup lemon juice (or lime, or a combo)
1 cup honey
1 tablespoon lemon zest (make sure to zest before juicing!)
3 tablespoons Otto's Naturals cassava flour
powdered sugar for dusting (optional)
1. Preheat the oven to 325ºF and grease an 8×8 baking dish. Line with parchment paper and then grease the parchment. (see photos below)
2. In the bowl of your food processor, pulse the cassava flour, lemon zest, and sea salt a couple of times to mix.
3. Add the butter and pulse 8-10 times, or until the mixture is the texture of coarse crumbs.
4. Add the honey and egg white and turn it on for a few seconds, so the mixture just starts to come together. Scrape down the sides and turn on again, until the mixture comes together into a ball. (Alternately, if you don't have a food processor, you can cut in the butter with a pastry cutter and mix in the remaining ingredients by hand.)
5. Press the dough into the prepared pan, bringing the sides up about an inch.
6. Bake for 15 minutes, or until it's just dry to the touch.
7. Meanwhile make the filling: In a large bowl, whisk together the filling ingredients.
8. Make sure the filling is well blended, and then pour the filling into the warm par-baked crust. Return to the oven for 20-25 minutes, until just set.
9. Allow to cool completely before using the parchment to pull it out of the pan. Cut as desired and dust with parchment, if using.
How to line a pan with parchment wrinkle-free:

PIN THIS RECIPE!
Thank you, Otto's Naturals, for sponsoring this post! 
All of the links on zenbelly.com are for information purposes, however some are affiliate links to books, products or services. Any sponsored posts are clearly labelled as being sponsored content. Some ads on this site are served by ad networks and the advertised products are not necessarily recommended by Zenbelly.