When Whole Foods Market asked me to create a special Passover recipe using their boneless leg of lamb, I was more than happy to oblige. Lamb has a way of making a holiday feel special, and this Boneless Leg of Lamb with Parsley-Mint Chimichurri is absolutely perfect for Pesach!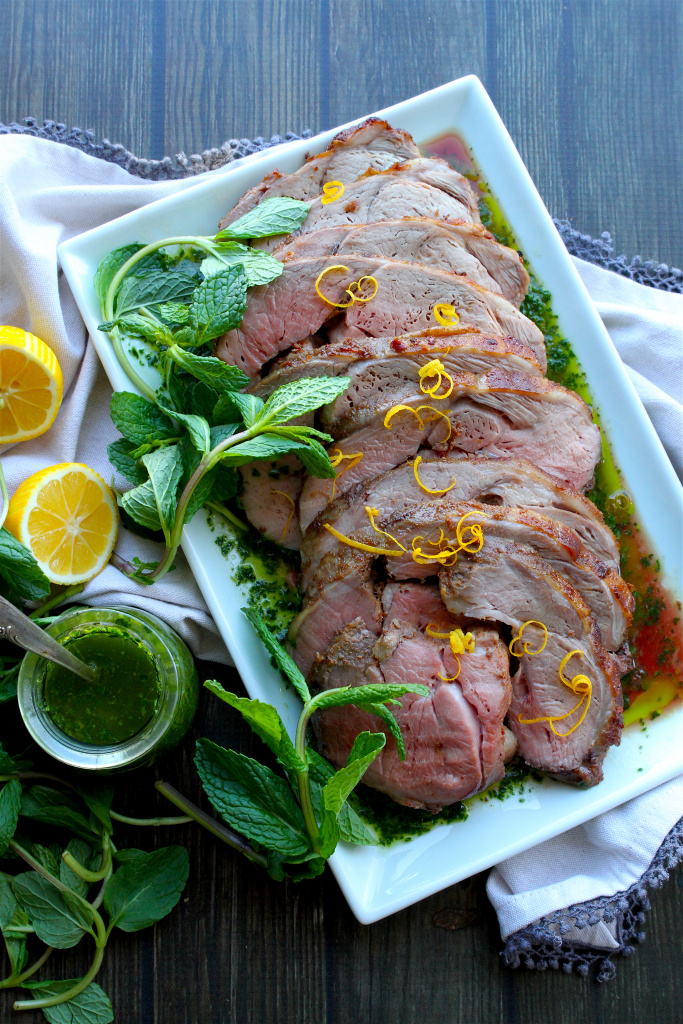 Boneless Leg of Lamb with Parsley-Mint Chimichurri
More often than not, my go-to marinade or seasoning for lamb tends to be pretty simple; garlic, salt, rosemary is always a safe, and tasty bet. But for this holiday-inspired dish, I wanted to incorporate more of a Middle Eastern flavor profile to really elevate it.
The addition of Moroccan spices adds a great depth of flavor to the lamb, and the bright Parsley-Mint Chimichurri is a great counterpoint. If you're worried about the harissa making it spicy, don't be. While it is technically a spicy red pepper sauce, the amount used isn't enough to add heat to the dish, just a roundness of flavor and umami.
The method used in this recipe makes perfectly cooked lamb virtually foolproof: The lamb is roasted low and slow to get the internal temperature right where you want it, and a high heat blast at the end yields a perfectly browned exterior.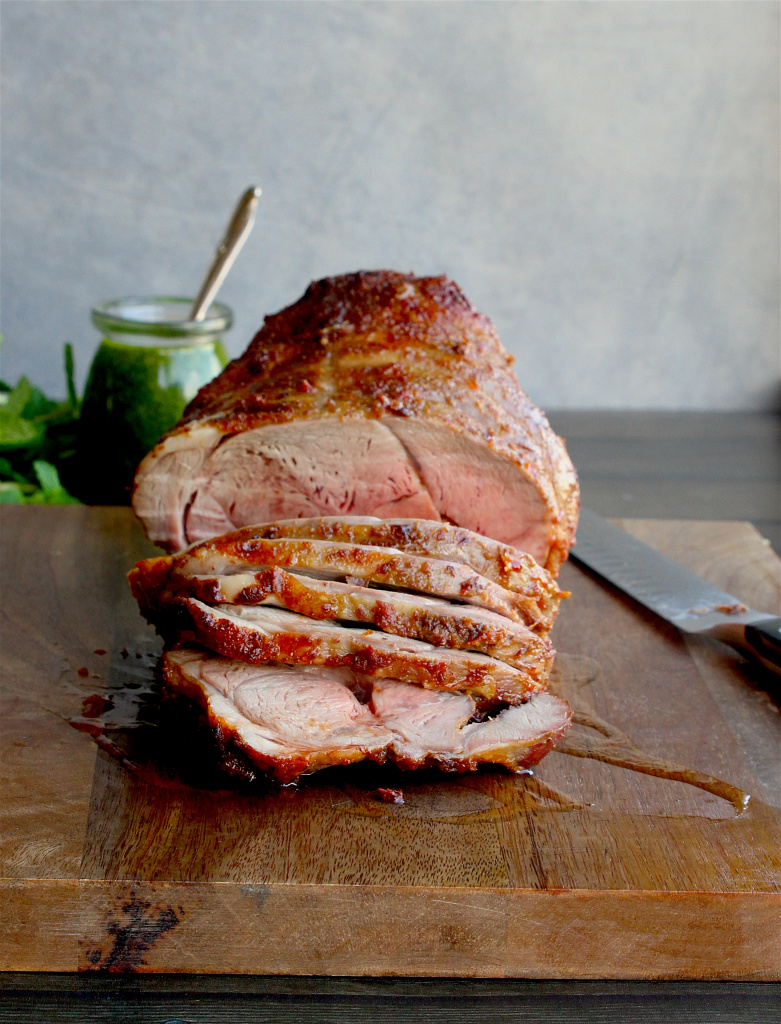 And if I could just take a moment to pat myself on the back, I felt pretty smart when I came up with this recipe because it incorporates two of Passover's symbolic-foods:
Lamb: Since it's 2018 and we've adapted with the times, we're not sacrificing a lamb for Passover like they did in ancient times. But we can still enjoy it and be grateful that there are ranchers (like Atkins Ranch), raising lambs responsibly and butcher counters at places like Whole Foods Market making it accessible for most of us.
Parsley:  One of the symbolic foods on the Passover Seder plate, it represents the coming of Spring. In Askenazi tradition, it is dipped in salt water to remember the tears of the Jews when they were slaves. Moving forward, while respecting where we came from is something that I can definitely get on board with.
To me, this Boneless Leg of Lamb with Parsley-Mint Chimichurri is the perfect main dish for any Seder.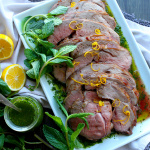 Boneless Leg of Lamb with Parsley-Mint Chimichurri
The perfect main dish for your Passover Seder
Ingredients
2

tablespoons

extra virgin olive oil

1

tablespoon

lemon juice

2

teaspoons

freshly grated lemon zest

2

teaspoons

finely ground sea salt

2

teaspoons

harissa

1 1/2

teaspoons

ground coriander

1 1/2

teaspoons

ground cumin

1/4

teaspoon

cinnamon

1/8

teaspoon

freshly ground black pepper

1

boneless leg of lamb,

about 4-5 pounds

1

batch

Parsley-Mint Chimichurri,

recipe follows

parsley leaves & mint leaves,

for garnish
Instructions
In a small bowl, combine all the ingredients except for the lamb.

Untie the lamb and rub about half of the marinade on the inside of it. Wrap the lamb back up and tie it tightly. Rub the remaining marinade on the outside and place in a non-reactive container. Cover tightly and refrigerate for about 24 hours, or at least overnight.

Once you're ready to cook the lamb, preheat the oven to 275ºF and place the lamb in a roasting dish or baking sheet fit with a metal rack. Cook the lamb until the internal temperature reaches 125ºF-130ºF for medium rare, 130ºF-135ºF for medium. (see recipe notes) Remove the lamb from the oven and turn the temperature up to 500ºF. Allow the lamb to rest while the oven heats, or at least for 15 minutes, then return it to the oven and roast for 8-10 minutes, or until the exterior is nicely browned. (While the lamb rests and the oven heats to 500ºF is a great time to make the chimichurri)

Allow the lamb to rest for at least 10 minutes before you untie and slice it. Garnish with parsley leaves and mint leaves, and serve with the Parsley-Mint Chimichurri.
Recipe Notes
Harissa can be found in jars in the ethnic section of Whole Foods Market
How long it takes to cook your lamb will depend on the weight and thickness of it. Mine was 3.5 pounds and took just under 2 hours. I recommend checking the temperature with an instant read thermometer after an hour to see where you're at, and then checking it every 15 minutes or so. 
Parsley-Mint Chimichurri
The perfect compliment to lamb, or just about any meat
Ingredients
2

cups (packed)

parsley leaves

(see note)

1/2

cup (packed)

mint leaves

zest of one lemon

2

tablespoons

lemon juice

1/2

teaspoon

sea salt

3/4

cup

extra virgin olive oil
Instructions
Place the parsley, mint, lemon juice, lemon zest, and sea salt in the bowl of a food processor. Pulse 10-12 times, or until the mixture is finely minced.

Turn on the motor and pour the olive oil through the chute. Process until incorporated.
Recipe Notes
Don't worry about picking off each leaf of parsley; you can just tear off the top leafy part and discard any large stems. 
This post is in partnership with Whole Foods Market
All of the links on zenbelly.com are for information purposes, however some are affiliate links to books, products or services. Any sponsored posts are clearly labelled as being sponsored content. Some ads on this site are served by ad networks and the advertised products are not necessarily recommended by Zenbelly.